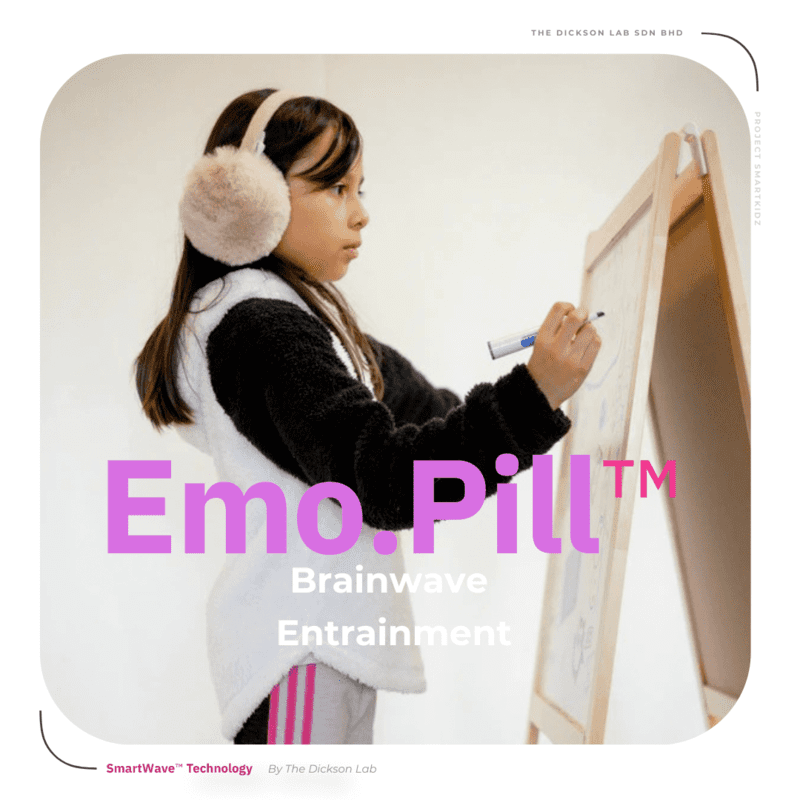 2.d. EmoPilll
Non-returnable
RETUNE BRAIN WITH HARMONISED FREQUENCY
Emopill comprises several interventions to improve your life quality. Listen to it every day continuously for 30 days to manage your stress more adaptively. It will also improve overall well-being by enhancing memory and expressing your feelings healthily and therapeutically.
Every emopill is personalized for you based on the outcome of your emowave report. No two persons are similar.
You will receive a set of Day EmoPill (listen before 4 pm) and a set of Night EmoPill (listen after 4 pm).
Create you're a harmonic resonance to boost your believe and co-create possibilities in life.
Once the individual has had the opportunity to read and understand the implications of their EmoWave™ Report, the person can opt to create a customized EmoPill™ – assembled from specific compatible frequencies – generated for the sole purpose of stimulating targeted areas for improvement.
Depending upon the purpose and intention of the individual, the desired outcome must be properly identified and decided upon during the design phase.
A customized EmoPill™ is deployed through the individual's auditory senses. The brain's auditory receptors connect with the prescribed frequency sent via the customized custom EmoPill™; it will engage the brain to create the state needed to help the person move towards the desired outcome. By listening to the customized EmoPill™ daily, the individual can potentially enhance positive emotional attributes and neutralize or possibly even eliminate negative emotional consequences. Areas to work on:
Accelerated Learning & Increased Memory Retention
Addiction Generally
Addiction Relaxing
Alcohol & Drugs Addiction
Allergy
Alzheimer
Anger & Irritability Remedy
Anxiety
Asocial Behaviour
Cell Optimization
Cell Rejuvenation
Chronic Fatigue
Deep Sleep + Lucid Dreaming
DNA Repair
Dyslexia
Emotional Acceptance (Associated with Stomach)
Endorphin Release
Fantasy & Producing Other Thoughts
Hair Growth
Hormonal Imbalances
Hypophyseal (Pituitary) Disturbance
Inner Guidance + Intuition
Inter-Awareness of Self Purpose
Introspection + Induce Relaxation + Meditation + Deeper Sleep
Long Term Memory Stimulation
Mood
Nerve Disorders (Neurosis)
Nerve Repair
Nervousness Prozac Agitation (Akathisia)
Organ & Muscle Generally
Otosclerosis
Ovarian Elimination to Stimulate
Pancreas Balance
Paresis
Paresthesia
Raise Intelligence
Recovery Physical & Mental
Reduced Stress Anxiety
Reduce Fear + Absent Mindedness + Dizziness
Remedy for Unsociable Behavior + Helps on Crystal Clear Meditation + Lucid Dreaming
Tension Headache
Toothaches
Treatment of Sleep Disturbance
Vitality + Life at Every Level
Vitality + Overall Balance + Stability
From the electrons spinning around the nucleus of an atom to the planets spinning around the sun in the galaxy, everything is in a state of movement. Everything is in a state of vibration and emitting a frequency. Everything is vibration. From the chair that you may be sitting into the paper or the mouse you are holding, everything is in a state of vibration. This is not a new idea. The ancient mystics have known this for many a millennium.