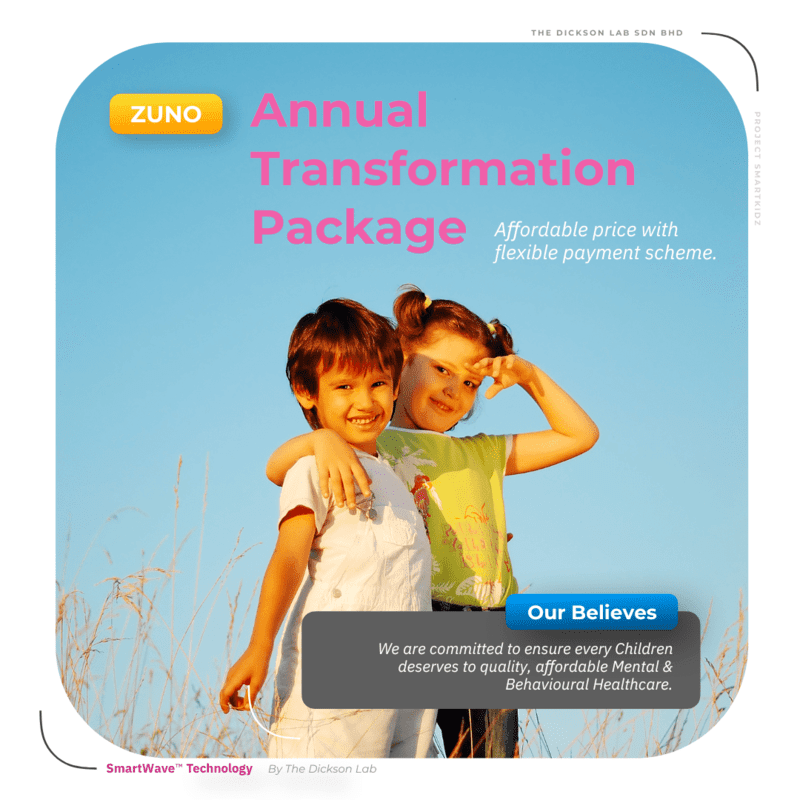 1.c. SmartKidz Transformation (Annual)
Non-returnable
Annual Total Transformation Package: The SmartKidz Project
TIME FOR US TO BRING BACK THE GIFT OF EVERY CHILD. A SIMPLE, NON-INVASIVE, AND HIGHLY EFFECTIVE 10-MONTHS PROGRAM. 95% ACCURATE ANALYSIS WITH A PERSONAL QUALIFY COACH. 92% HIGH TRANSFORMATIONAL AND SUCCESS. IT INCLUDES:
A 10-MONTHS PROGRAM
SMARTWAVE FOR KIDS BELOW 13

1-2-1 PERSONAL SESSION

5 X EMOWAVE DIAGNOSIS

4 SET OF MUSIC THERAPY

40 X NEUROFEEDBACK

40 X BRAIN SENSORY DEVELOPMENT

60 MINS PER ACTIVATION SESSION

WEEKLY PROGRESS REPORT
SMARTWAVE IS A PROGRAM THAT HELPS CHILDREN MAXIMIZE THEIR NATURAL GIFTS AND EQUIP THEM FOR LIFE AND LEARNING IN THIS CENTURY. THIS IS AN EXPERIENTIAL PACKAGE.
Learning is no different. Education systems may be mass-produced but each of our children is an original. We owe it to our children to give them a system of learning that sets them free to think like a genius, develop their natural gifts, and learn to suit them best. Being able to express our ideas, create knowledge, learn quickly and develop individual gifts and creativity as best we can. The challenges of combining learning creativity are not something new to this century but to the past geniuses: their lives show that their success lies in their ability to learn and create all at the same time.
3 Highly Effective Steps:
Step 1: ABILITY result
EmoWave diagnosis to map out their learning style, physical, emotional, and mental wellbeing.
Taylor a program to unlock their potential to raise intelligence
First they will go through a unique voice assessment in 2 minutes only with EmoWave. Emowave, a voice analysis, the assessment will show children's intelligence, personality, learning styles, and emotional states, communication stye. It does not require you to participate in written tests or any questionnaires. Only your mere voice is needed.
You will discover:
Children Intelligence Indicator
Children behavior pattern
children emotional state
Children communication & learning style
Children left/right brain activities
Children physical wellbeing
Step 2: Activation Program
Daily home base 15 mins, personalized music therapy to raise intelligence
Weekly brain activation (neurofeedback) games to develop brain power
From the EmoWave report, the coach will personalized an EmoPill, music therapy. EmoPill™ (Music Therapy) is deployed through the individual's auditory senses. The brain's auditory receptors connect with the prescribed frequency sent via the personalized EmoPill™. It will engage the brain to create the state needed to help the children achieve the desired outcome. Listen daily, and the kids will enhance positive emotional intelligence attributes and neutralize or eliminate negative emotional consequences, also accelerating their learning abilities.
The kid will also go through a session brainwave activation (neurofeedback), Neurofeedback is similar to exercising your brain. It's like putting your brain on a stair stepper to exercise certain regulatory functions of your brain so it functions better all the time. Sensors, which pick up brain waves, are attached to the frontal lope. Computer software interprets the brain waves and extracts certain information from there. We show you your brain waves through an EEG and video games. We then instruct you on how to play a video game using your brain waves. The process of playing a video game rewards specific areas of your brain for functioning optimally. EVERYONE CAN DO IT!
Step 3: Accelerate the "Wow"
Weekly one-to-one session, brain sensory development
Perpetual measuring and monitoring to attain peak performance
The coach will also conduct a 30 mins POWER UP activity to develop motor skill, power training to achieve:
concentration
observation
judgement
inference,
memory
creativity
response
self management